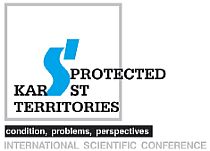 CONCLUSIONS, RECOMMENDATIONS, INITIATIVES
          Based on the research papers and discussions, as well as the shared expertise of the participants in the International conference "PROTECTED KARST TERRITORIES: STATE, PROBLEMS AND PERSPECTIVES", held in Shumen (18-21 October), the following decisions have been formulated:
          Wide karst distribution in Bulgaria makes protected karst territories important objects of scientific, ecological, recreational and educational significance.  
          Protected karst territories have unique diversity and attractiveness. At the same time they are sensitive and quite vulnerable to human impact, which makes them risk territories.
          -  It is recommended all activities concerning management and conservation of protected karst territories and objects to be based on prior interdisciplinary research, held through unified methodology, complying with the concept of karst geosystems.
-  Borders of protected karst territories should comply with the existing borders of karst geosystems in their real spread, as discrepancies should be corrected. 
-  Specialized complex monitoring should be launched in the protected karst territories, which should include both natural processes and human activities with their impact.
-  Protected karst territories' management and control should take into account the local population's opinions, expertise and the interests. At the same time, information provision about these territories state and potential should be optimized for both local people and visitors.
-  Karst specialists should get priority in the process of development of management plans for protected karst territories.
-  The role of researchers in the various scientific councils about karst territories should be optimized. They should be provided for additional access to means of active research work, monitoring and education, including educational practices of university students.
-  Ways should be sought to form mutual research-production enterprises, which will include both park administrations and research organizations and specialized educational centers.
<![if !supportLists]>- <![endif]>It has been suggested the respective ministries to expand the administrative park directions authorization, allowing them some rights for economic activities in the spheres of tourism and recreation. Income resulting from such activities can invested enhancement of the park infrastructure, additional research, education and advertising.
    -   Initiatives should be undertaken to improve coordination among:
                  -  karst researchers and karst research organizations;
                  -  researchers and administrative bodies concerning karst resources;
<![if !supportLists]>- <![endif]>authorities which manage and control karst territories.
-  All efforts to provide for a legal basis about karst management and control have been positively appreciated. But taking into account the now existing legal frame, the new draft law offered by the Ministry of Environmental protection is considered an unnecessary legal act; in the present Bulgarian conditions rendering caves to concession may bring to a great danger.
- It is offered to set up a working group of karst researchers, lawyers, and representatives of authorities concerned about karst use and management with the following tasks:
- To analyze and evaluate the extent to which the Bulgarian laws reflect the karst specifics, as well as how much it complies with the respective laws abroad;
- To offer new changes and additional clauses in the respective Bulgarian laws in this field.
- In case of proven and well grounded necessity, to suggest a draft law for karst territories, which should regulate their use, effective management and control.
- To work together actively to include the Bulgarian protected karst territories into the existing international networks of such territories, aiming at exchange of information and expertise. To initiate a Balkan network of protected karst territories.
An initiative has been offered for discussion about organizing an international network under the title "MANAGEMENT OF KARST TERRITORIES", which may include all interested in management and rational use of karst regions.                                                                                                           
 - To suggest to the Ministry of Education to reconsider the topic abut karst in the Secondary schools curriculums of Geography and Biology, aiming at more wide consideration of karst phenomena in school education, including through elective courses, green schools, school excursions, etc.
          Two new international initiatives have been offered, aiming at attraction of children to the topic of karst:
- The "KARST UNDER PROTECTION: GIFT FOR THE NEXT GENERATIONS" competition to become a regular annual forum for pupils and their teachers to show their skills and knowledge about karst. For this purpose connection may be established with the respective educational commissions of the International Geographical Union (IGU) and the International Speleological Union (UIS), as well as other international organizations working with children.
- To begin setting up an international children's network "THE CHILDREN OF KARST", using the already established contacts between Japanese and Bulgarian children through this conference.
* * *
About the Natural park of "Shumensko plateau" it has been recommended:
- To restore work on building up a visitor's information center in the park part of "Kyoshkovete";
- To look for ways to finish and update furnishing of the Zandana cave, as a basic element of the tourist and educational potential of this natural park. Specialized information center should be set up at the cave about underground karst, as well as a research monitoring station;
- The park Direction should be furnished with up to date information/communication and multifunctional facilities.
* * *
          This conference decisions should be made public and offered to the respective institutions, authorities and specialized international organizations.
       21 October, 2005
       Shumen, Bulgaria