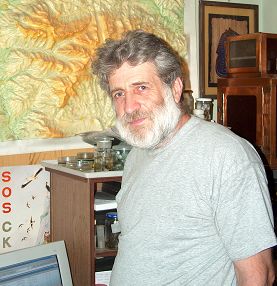 Dr. Peter Beron
Director National Museum of Natural History Bulgarian Academy of Sciences,
President of the Bulgarian Federation of Speleology and The Balkan Speleologic Union
Karst landscapes, their exploration and protection


Organized speleology in Bulgaria has a 76 years old history, while cave explorations have been done for 100 years now. A huge amount of information has been stored. The Main file library of the Bulgarian caves at the Bulgarian Speleological Federation and karstologic databases of different research institutes keep the results of the hard work of dozens and thousands of known and unknown cavers, who put more than 5000 caves on the geographical map of Bulgaria. About 800 types of cave animals have been registered; dozens of cave minerals, valuable hydrologic and geomorphologic data, results from dozens archeological and Paleontological excavations – all this work confirms that fact that Bulgarian Speleology ranks high in Europe. A scientific conference like this is not the venue where the sports training and achievement of Bulgarian speleologists should be discussed, but they are also impressive.

Karst landscapes occupy 22.7 % of the Bulgarian territory, or 25 171 sq. km. This alone makes them (or should make them) objects of special concern for the state, environmental organizations and local authorities. Karst landscapes are of high importance for tourism in this country. Think only about Karlukovo, Vratzata, Cherepish, Lakatnik, the Shumen plateau, or the high-pitched Pirin! They are of high significance for water supply, the cement industry, land reclamation, protection of specific plant formations and animal species, for construction and many other aspects of life. But they are also very vulnerable to thoughtless violations such as quarrying in the most beautiful areas; explosions at cave entrances, dumping waste and dead animals in karst abysses, extinction of birds and bats. The picturesque kare ribs of Karlukovo are disappeaing just before our eyes: a lot of them have been pegged away and sold out for decoration of private villas. The famous Panega was dead for a long time as a result of the spewing cement. The Great Hall of the Devetaki cave served as a gasoline storage for a long time. The floor of the Emen cave has been concrete coated and then deserted. A tunnel was vented in the Lakatnik-area cave of Temnata dupka and piping installed, which resulted into a preposterous microclimatic change of this cave, which is famous for being the richest in troglobionts in the Eastern part of the Balkan peninsula.

All this requires higher public concern to the problems of karst areas, their protection, exploration and responsible use. These problems are being targeted with the institutionalizing of protected territories with karst landscapes such as the national parks of Pirin, Central Balkan, the natural parks like the Shumen plateau, The Rousse Lom, the Vratza Balkan etc. These problems have been dealt with in the Project Law about caves in Bulgaria, introduced in the National Parliament and a monograph about these caves, which is currently under compilation. An international Scientific Conference is being organized in Shumen now. Why Shumen? Because there, on the Shumen plateau and in Madara, Professor Rafail Popov laid the strong foundations of cave Archeology and Paleontology in this country. He also created a part around the Madara caves and a museum of the research findings in this area. Because Shumen is proud of many and diverse caves, some of them like The Zandana (the Pearl) and the Secret ponors being of highest national value. Because Shumen has active cavers with a 40 years old club, who managed to published a very good book and continue their cave explorations. Also, because the Shumen County evidently has authorities, which have special attitude to karst problems, karst studies, sustainable use and protection.

All this makes us believe that this Conference will produce valuable scientific results and I wish the participants success. Good luck!