Winners in the Second International Competition
"Karst under protection – gift for the future generations"
List of winners articles
List of the winners
Originality, sincerity and compelling emotion were the main features of most of the works. This made the job of the International jury very difficult, especially in the category of pictures. 15 works were awarded: 1 grand prize, 5 first prize, 4 second prize and 5 with third prize; Other 13 participants received incentive awards. In the exhibition 35 works were additionally included, winning the jury recognition.
For Grand prize for creative achievement the jury nominated four competition works by 4 different categories. After processing the results, convincingly headed out the mural "Karst cave" (Category "Work with natural materials") developed by Amina Mushtakova (10 Age) and Nariman Abdigapparov (11 Age) from the UNESCO associated school "BEST" (Republics of Kazakhstan). They are the first winners of the Grand Prix of this contest and were invited to be guests of honor at the International Forum in Shumen, Bulgaria in September 2012.
Grand Prize:
Excursion in Bulgaria (Photos)
First prizes were awarded to:
Alisa Nikishina, Unesco associated school "BEST", Almaty, Republic of Kazakhstan – Category Drawing: "Cave painting"
Evelina Mikoleiko, Gymnázium "A. Mickevicha",Vilnius, Lithuania - Category Video-clip: ""Protected karst areas – Bridges to the Future" (she was also awarded with the special prize of the Organizing committee)
Nina Pivcevic, Institute of Mineralogy and Petrology, Faculty of Science, University of Zagreb, Croatia - Category University Students - Multimedia presentations: "Geochemical mechanisms of carbonate equilibrium in the system CO2 - H2O - CaCO3"
Smiljana Baran, teacher, Antuna Mihanovica elementary school Dubecka 5, Zagreb, Croatia - Category My unusual lesson: Project "KARST"
Reneta Valkova, teacher of English, Secondary school "Angel Kanchev", Sofia, Bulgaria - Category My unusual lesson: Film "Zemen Gorge and Its Karst Pearl Polska Skakavitsa"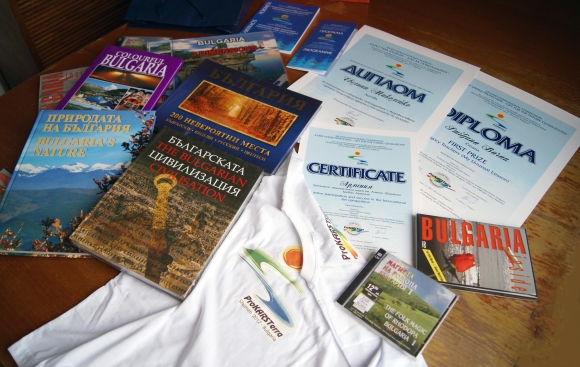 The prize pool for the competition was provided by the Bulgarian Ministry of Education and Science.