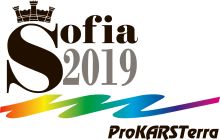 Deadline for participation: 19 May 2019
The competition works must be received by this deadline by mail, by Courier or by e-mail at the following addresses.
Postal address:
Bulgaria
1113 Sofia
NIGGG - BAS
"Akad. Georgy Bonchev" street, Bl. 3
For the Karst competition
E-mail address
:
forum2019comp@abv.bg
Important: Competition works arrived after 19 May, 2019, will not be considered.
Until 16 June 2019 the International Jury will determine the winning entries in each category, ranking them on the six criteria formulated above. The competition results will be published after 30 June 2019 on the sites:
http://prokarstterra.bas.bg/competition
;
http://www.prokarstterra.bas.bg/forum2019/competition
Official announcement and awarding of winners will take place on 9 September 2019 at a ceremony of the International Scientific-practical conference "Protected Karst Territories – Legislation, Tourism and Monitoring" in Sofia. Then a specialized exhibition of the winning entries will be opened.
IMPORTANT DEADLINES:
19 May 2019 - Deadline for participation
16 June 2019 - Evaluation of the competition works
30 June 2019 - Announcement of ranking results
29 September 2019 - Awarding of winners and opening of the exhibition