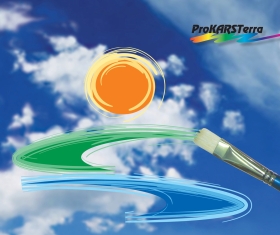 INTERNATIONAL COMPETITION
KARST UNDER PROTECTION – GIFT FOR THE FUTURE GENERATIONS
Note: Traveling Exhibition with award-winning works from the Competition is prepared for exposure. It is provided under certain conditions.

For contacts: karst-competition@prokarstterra.bas.bg
In the exhibition of the competition also took part Professor Yoshihisa Nakano and his students from the Yamaguchi University, who presented their original Art-compositions under the general title "Phantom in karst".
"Phantom in Karst - ²"
"Phantom in Karst - II"
"Phantom in Karst - III"
Note: Traveling Exhibition with award-winning works from the Competition is prepared for exposure. It is provided under certain conditions.
For contacts: psgeo@abv.bg