SECOND EDITION OF THE COMPETITION (2012)
The second contest was held in 2012 and was also associated with a large International scientific-practical forum "Protected karst territories - monitoring and management" (September 16-20, Shumen, Bulgaria, http://www.prokarstterra.bas.bg/forum2012). The competition motto was the same as the Conference motto: "Protected karst territories, bridges to the future". This forum stated in its resolution that this competition deserves high praise and it should become traditional.
The second edition was held under the auspices of the Bulgarian Academy of Sciences and UNESCO (through an approved project within the Program for participation 2012-2013).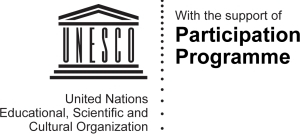 "ProKARSTerra-Edu: Integration between the research concept of Karst Geosystems and the educational concept of Lifelong Learning (based on the example of model protected karst territories in Bulgaria)" Nr. 6651406001BUL
---
COMPETITIVE CATEGORIES
1. For pupils: 
1.1. Up to12 years old: 
— Drawing or work with natural materials
1.2. Over 12 years old: 
— Poster / Card or multimedia presentation / video	 
2. For teachers: 
— My unusual lesson  
3. For students: 
— Scientific essay or multimedia presentation 
— Art Installation	
4. For nature lovers, photographers: 
— Composition (3 to 5 photos)
PARTICIPANTS
The second edition of the competition in 2012 already had 107 participants from 10 countries: Armenia, Bulgaria, Croatia, Czech Republic, Estonia, Kazakhstan, Latvia, Lithuania, Russia and Japan. They presented 104 works in total.
For the second time Professor Nakano and his students from the Yamaguchi University took part, presenting an original exhibition "Phantom in Karst - II".
Total number of participants        107
Total number of entries received    104
Entries by category:	
Drawings                                    76
Works with natural materials 	             1
Poster                                       1
Multimedia presentations/Pupils             10
Multimedia presentation/University student   1
Video-clips                                  3
Photo-compositions                           7
My unusual lesson                            3
Essay                                        1
Special cases (Projects - a combination of several categories) 1
Total:                                     104
Participants by countries:	
Armenia         12
Bulgaria         6
Croatia         17
Czech Republic   1
Estonia          5
Kazakhstan      31
Latvia           4
Lithuŕnia        5
Russia          13
Japan           13
Total:         107
INTERNATIONAL JURY
Professor Yoshihia NAKANO, PhD – Chairman (Artist, Yamaguchi University, Japan), RNDr. Petr ZAJICHEK (Geologist, Speleologist and Photographer, Cave Administration of the Czech Republic), Pavla DVORSKÁ (Artist, Teacher, Czeck Republic), Associate professor Dilyana STEFANOVA, PhD (Geographer, NIGGG-BAS, Bulgaria), Associate professor Todorka KRUSSTEVA, PhD (Geographer, University of Shumen, Bulgaria), Krusstî TERZIEV (Artist, Sofia, Bulgŕria), Khristo KICHIKOV (Geographer, Teacher, Gabrovo, Bulgaria)
CRITERIA FOR EVALUATION OF WORKS
Originality of the idea realized with this work (creative achievement)
Knowledge of Karst
Artistic value
Emotionality
Technical skills (Technique)
Professional autonomy in making
AWARDS
Originality, sincerity and compelling emotion were the main features of most of the works. This made the job of the International jury very difficult, especially in the category of pictures. 15 works were awarded: 1 grand prize, 5 first prize, 4 second prize and 5 with third prize; Other 13 participants received incentive awards. In the exhibition 35 works were additionally included, winning the jury recognition.
For Grand prize for creative achievement the jury nominated four competition works by 4 different categories. After processing the results, convincingly headed out the mural "Karst cave" (Category "Work with natural materials") developed by Amina Mushtakova (10 Age) and Nariman Abdigapparov (11 Age) from the UNESCO associated school "BEST" (Republics of Kazakhstan). They are the first winners of the Grand Prix of this contest and were invited to be guests of honor at the International Forum in Shumen, Bulgaria in September 2012.
Grand Prize: excursion in Bulgaria (photos)
First prizes were awarded to:
- Alisa Nikishina, Unesco associated school "BEST", Almaty, Republic of Kazakhstan – Category Drawing: "Cave painting"
- Evelina Mikoleiko, Gymnázium "A. Mickevicha",Vilnius, Lithuania - Category Video-clip: ""Protected karst areas – Bridges to the Future" (she was also awarded with the special prize of the Organizing committee)
- Nina Pivcevic, Institute of Mineralogy and Petrology, Faculty of Science, University of Zagreb, Croatia - Category University Students - Multimedia presentations: "Geochemical mechanisms of carbonate equilibrium in the system CO2 - H2O - CaCO3"
- Smiljana Baran, teacher, Antuna Mihanovica elementary school Dubecka 5, Zagreb, Croatia - Category My unusual lesson: Project "KARST"
- Reneta Valkova, teacher of English, Secondary school "Angel Kanchev", Sofia, Bulgaria - Category My unusual lesson: Film "Zemen Gorge and Its Karst Pearl Polska Skakavitsa"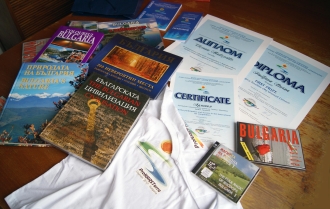 ÍThe prize pool for the second edition of the competition was provided by the Bulgarian Ministry of Education and Science.