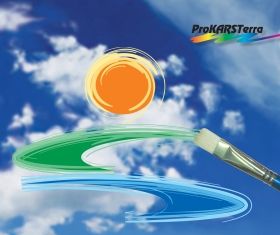 The Competition is held in 5 already established categories:
1. For pupils: 
1.1. Up to12 years old: 
 - Drawing / Work with natural materials 
 - Multimedia presentation/Video
1.2. Over 12 years old: 
 - Drawing / Work with natural materials 
 - Multimedia presentation /Video / Computer game / Website
 - Essay 
 - Poster / Postcard 
 - Comics
We live in a dynamic, sometimes troubled world, but its nature is divine. Among the various natural en-vironments there is a world of specific beauty, with marvelously sculptured rocks, clear spring waters and underground palaces, which emerge from the mysterious darkness of caves. This kingdom is called karst. You may have discovered it for the first time during a trip, or you may have been born and live in it. Does it excite your imagination? Are you ready to express your feelings with the power of Art? Then why don't you send us your best picture, dedicated to karst and caves? Or maybe you like to create things with materials from nature? – Then send us your original work.
If you are older and you are already excited about how to keep these special nooks of nature for your coevals from future generations, please send us your original message in a poster or postcard. If you prefer beautiful language expression, you may send an inspiring essay. Perhaps you prefer computers with their abilities? Then create your own multimedia presentation, a video message, an original video game or website.
2. For teachers: 
 - My unusual lesson 
 - Our students' project
Karst areas are unique with their natural phenomena, specific plant and animal diversity, cultural tradi¬tions and lifestyle of the people occupying them. This world of rare beauty, surprises and emotions can be your unusual classroom. Why don't you do together with your enthusiastic pupils an original lesson about karst, or a lesson in which karst is an important element? Then please send us this lesson in a form which you prefer.
Perhaps your interest in karst has inspired you to develop a school project with your pupils? Why don't you share your experience and achievements in a multimedia presentation sending it for the competition?
3. For University students: 
 - Scientific essay / Multimedia presentation/Video / Computer game / Website
 - Picture / Painting 
 - Cartoon (Caricature) / Comics / Grotesque 
 - Art Installation 
In science there are some exciting areas, but not well explored yet. Do you wish to be a researcher exactly in such a field, discovering karst, Speleology and Karstology? They will increasingly capture your mind; you will get to know examples of researchers, who explore the deep underground caves, disclosing their secrets, and you will see that their obsession with karst is contagious. Maybe you are already immersed in this world and have made your first studies about karst? Then why don't you write your first scientific essay and send it to the competition? The essay can be illustrated with your original drawings, pictures or other graphic applications. Perhaps you have a talent to represent the world around in a comic form? Then your cartoon about karst and caves and their visitors would be most welcome (since old times cave visitors like to draw inside…).
Or maybe you prefer to use modern computer technologies? - Then tell in a multimedia presentation or video about your research and the first exciting results that you achieved. They can also be the basis for your original website, which promotes the karst and the caves and attracts and unites like-minded people...
If you are an artist at heart and an artist by vocation, reproduce what you have seen, experienced and learned about karst and caves in an original art installation.
4. For nature lovers, photographers (no age limit): 
 - Photo Composition (3 to 5 photos) 
 - Movie 
 - Picture / Painting 
 - Cartoon (Caricature) / Comics / Grotesque
A ray of light on the water-sculpted cave shape; a piece of sky, caught between the upright rocks in a gorge; a tree, perched on inaccessible rock; a sleeping bat with hanging wings; dark entrance to an underground mystery; delicate color among sharp rock edges; children's eyes, burning in admiration, reflecting a particle from the surrounding unearthly beauty – share your feelings of the moments, sealed by your camera and send your composition – a message to your contemporaries and legacy to the future generations.
If you have gathered a lot of impressions with your camera and you have arranged them in a visual story, you can send it to the competition. The movie theme and type is by your choice.
Maybe you would like to send us your message through graphic and pictorial techniques? – Then send us your picture.
If you are in command of sharp observation skills and innate sense of humor, giving another perspective on karst and especially human (mis)deeds under and over the ground, please send us your cartoon or gro¬tesque. It will cause inconvenience to many guilty people and make them think...