FOURTH INTERNATIONAL COMPETITION "Karst under protection – gift for the future generations" Sofia, Bulgaria, 2019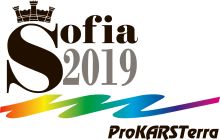 Dear lovers of karst and caves,
I have the honor to announce the opening of the Fourth Edition of the International Competition "Karst under protection – gift for the future generation. The invitation to participate is valid until May 19, 2019.
The new edition of this competition is a part of the program of the Internationa International Scientific-practical forum "Protected Karst Territories – Legislation, Tourism and Monitoring" (ProKARSTerra`2019, Sofia, Bulgaria, http://prokarstterra.bas.bg/forum2019) and it is held under the forum's motto: "Protected karst territories – islands of sustainable development".
The competition offers 17 rubrics allocated to the traditional 5 categories, hoping to satisfy the interests of more candidates, according to their abilities. The six evaluation criteria developed along the former competitions are already proven to be effective, and evaluation will be done by an authoritative and impartial international jury.
Detailed information on the conditions for participation and the results from previous editions of the competition can be found on this site. For any questions please use the offered contact addresses.
Let us jointly rediscover karst and with your original works to popularize it among people - they deserve to learn more about this natural phenomenon. Not only because it is unique and attractive and still hides secrets about our planet, but also because it is widespread and its nature and specifics continue to be offensively unknown to our contemporaries.
We wish all the contestants of the competition much inspiration and the very best of luck.
We will be happy to congratulate you at the ceremony session on 29 September 2019 in Sofia as winners in one of the competition categories.
Petar Stefanov
Invitation: English, German, Russian
Poster: English, German, Russian, French