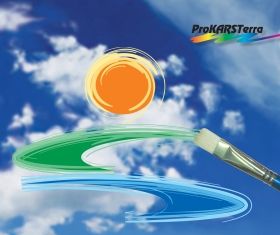 5-TH INTERNATIONAL COMPETITION "Karst under protection – gift for the future generations" Sofia, Bulgaria, 2021
The announcement of the fifth edition of the competition is forthcoming. It offers 17 sections, divided into 5 categories of participants and will satisfy the interests of all comers according to their abilities. The six criteria for evaluation of the competition works are already with proven effectiveness, and the evaluation will again be by an authoritative and impartial international jury. Detailed information about the conditions for participation can be found on this site.
576 authors from 20 countries took part in the four editions of the competition held so far (2005, 2012, 2015 and 2019), presenting a total of 495 original works. The international juries of the competition awarded 102 prizes, of which 2 big, 27 first, 36 second and 37 third. The fifth edition of the competition awaits its winners.
"Karst under protection – gift for the future generations"
Let us continue to rediscover the karst with joint efforts and to promote it among the people with your original works - they deserve to learn more about this natural phenomenon. Not only because it is unique and attractive and still hides many secrets, but also because it is widespread, and its nature and specificity continue to be insultingly unknown to our contemporaries.
We wish all future participants in the competition a lot of inspiration.
We will be happy to congratulate you in 2021 as the next winners in one of the competition categories.